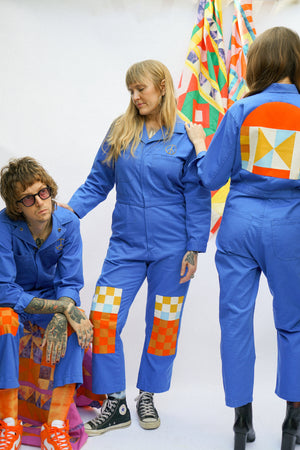 MAL X AL
Sale price Price $495.00 Regular price
I am so excited about this special collaboration with a great friend and artist, Mallory Anita Lawson. Mallory is an LA-based artist whose creativity is truly boundless. Her textile work is a technicolor vision and it makes me happy holding one of her bags or wearing one of her garments. 
Mallory has customized three Al's Big Deal Big Island Blue jumpsuits, sizes 0 1 and 2. Each has a peace sign hand-stitched above the chest pocket and quilted textile panels on the legs and back of the jumpsuit. The panels are made with vintage and re-purposed fabrics, there are slight variations on the back panels. A lot of time and love went into these :)
*Please email first with any questions related to sizing and fit al@alsbigdeal.com 
To learn more about Mallory's work, visit malloryanitalawson.com. Mallory (blonde) is wearing a size 1, Anna is in the size 0, Devin is wearing a size 2. This garment has not been pre-washed, expect up to 3% shrinkage. View size chart, product care, and return policy here.